Newest updates will be here : HOME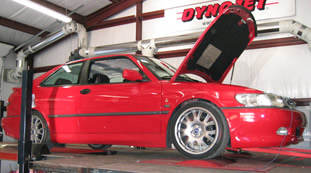 Dyno Videos 2665.avi 4.7mb
2666.avi 4.8mb | 2667.avi 2.5mb
2668.avi 9.8mb | 2669.avi 8.1mb
Acceleration Videos 3rd Gear | 4th Gear

The current set up for my 2001 Viggen 3 Door
340HP 400ftlbs (at the wheels 287hp 340ftlbs)
15,500 Miles 93 octane Feb 06 12,000 miles (Dec 04)
Taliaferrro open Air filter kit
Nordic Trionic ECM Stage "Special"
Green Giant injectors with matching sw
Turbo Inlet pipe (Taliaferro)
High flow KJ race Intercooler
Aquamist Water injection (not active during runs 1-6 + 12)
Back to the remus with my 3" Downpipe - See homepage for details
3" JT Downpipe W Race Cat >COMPLETE 3" System, 1 muffler
Saab / Remus Straight through center resonator pipe (discontinued) Runs 1-6
Stock rear Muffler Runs 1-6
Special clutch disk developed with Taliaferro From SPEC Clutches
Taliaferro poly Transmission mount (Necessary to eliminate wheel hop)
NGK BCPR7ES 1.0mm Spark Plugs
Turbocharger Tdo4 18T -6cm !! Image Link
---
New 6 point Subframe Brace /Image Gallery Biggest change!
New style front suspension bushes. Taliaferro Original.
H&R Sport Springs
Koni Adjustable dampers F+R
TFS Rear Anti-Roll Bar stg2 (Swapped for 1" during race season)
Taliaferro Steering Rack Brace Kit (required)
TFS 300mm Ventilated /sport grooved rear brakes
EBC Green Stuff Front pads / Factory Saab 9-5 rear pads
Goodridge Stainless brake lines Image
Original 17" P6000 (winter) , BBS CH 18s and 225-40-18 Pzero Corsa
---
E-code Blinkers, Carbon Shift knob and Dash, Taliaferro Custom Shift Boot, Blue Alarm Led image Alpine stereo with ipod interface using factory steering controls.
---
There is lots more planned for this car... Lots of things have been tried that are not listed. There are a few more that are not public yet. It is quite amazing right now! If you have any questions just e-mail or call.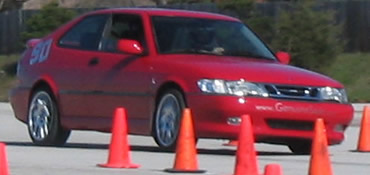 Autocross 11-7-04