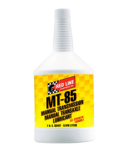 This is the first fluid I have found to be better than the stock 0063.
In the cold it is noticeably better.  Will see what it does for the F40s crunchiness.   Interesting to see how the first gear on the drag car looks after a few passes.  They tend to take quite a beating putting down over 6000lbs on the launch.
Cheaper too!  http://www.redlineoil.com/product.aspx?pid=140&pcid=7
Not to be confused with their thick blue that is aggressive to the syncros and with that fluid I have witnessed a couple early syncro failures in customer gearboxes.
Anybody else running this?