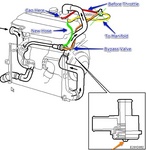 This is the second installment of the Bypass Valve posts. Sometimes with a tuned vahicle we want to eliminate some of the compromises the facory made. In this case it was noise related to the turbo bypass valve (BPV) "hooting" during light acceleration when the manifold vacuum is too low to keep the valve in steady state causing it to osscilate. The factory got around it by fitting an electronic valve that connects the BPV to either before or after the throttle. Tuned we want to simplify this. For years we have been doing this to the cars here and figured it time to share with a nice HowTo..
Bigger Image Opens in new window.
Basically we want to cap the throttle port and fit a new hose (shown Green) directly from the bypass valve to the manifold. Deleting the red and orange hoses and the valve. Leave the valve electrically plugged in. Should be a 10min job only a 4mm or 3/16″ vacuum cap and a few feet of 4mm hose.