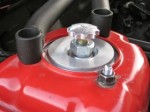 Some pretty major updates to the viggen power and handling over the weekend.
Installed the new solid strut mounts Friday evening. With the new design mount found an inch or so more compression travel and fitted 75lb stiffer springs. After making larger steps on rates now I am trying to find the sweet spot.  Always a balance front and rear, I seem to get stuck at what if…
Read on for the rest of the details.
On the road it is not that much harsher than the filled stock mounts but the feel is improved a bit. The double adjustable race konis went in also. Set them the same as the rebound only race setup that came out. The compression adjuster is on the bottom sort of difficult to adjust at a quick gas stop. Sure beats pulling and shipping to Koni for revalving though. They have a 12 click setting so easy to keep track without seeing it.
Still have a couple parts to make to help simplify the front coilover springs. That should come next week and make it reasonable to run the all the time. If even most don't need anything past the available sport spring kits. .
Along with the new suspension and low 4.45 final drive it was time for more power. Fitted the hand-me-down 1000cc ID injectors from the drag car. Best part is they fit straight in the t7 rail with no spacers.
I remember when 465cc greens were overkill. Now the 750s are only enough for lambda .8 at full load on e85. With just inj constant and batt offset it's close but will have to tie it on the dyno this week when it warms up to check fuel supply and tune the full load. Scary on the road spinning in 4th.

 Only on ~23 psi peak in the cold now.
Also finally ran out the first tank of C02 for the clutch assist.  Got the Arduino to work on the coding to automate it.