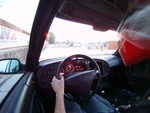 Started with a hot day.    Initial runs were high tire pressure and spun a little.  As the clutch broke in and I kept lowering the tire pressure the 60ft came down nice to 1.70s on .5bar launching.   The mid track was quite poor.  Found a APC hose a little crimped and fixed some of it.  Still needs some work on the power curve.  Maybe with an expensive gearbox it would be plenty fast but again that not the point here to throw $$ at it.      BTW the shift light is 8750 in 1st and 8100 from there.
The Video ride along from the GOpro tells the rest of the story. GOPRO VIDEO
Obviously not running the midnight races tonight so have to tear it apart next week.   I am getting some miles in it this year.  Closing in on a dozen passes or so on the same axles!
-Nick