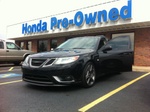 The right place to find my own Turbo X, a Honda lot in Arkansas!  Manual with Touring and Heated Seats.    Love the car but the 280hp puts it at the bottom of my turbo Saab HP ranking.  Working on that from the day it came back to the shop..  The car will need to be in the 500hp range before I put my name on it.  

Adam spent some time on it last week, made it sound pretty nice, picked up a bit of response and power.  YouTube Video  More on that in a coming post.
The machine shop is working on some new bits for a no compromise strut bar.       Now that we have our own V6 it allows us to do more testing to bring my many projects from paper to reality.