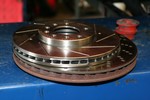 Wanting to make one more go at the drag strip with my viggen this time with a bit more traction and less power will it work? Read on for the prologue.
After scrounging the turbo off to the racecar and running the old gt2871.64, but fixing some other deficiencies it might work. This is the turbo that hits peak 500rpm later and about 50hp and 50 tq lower on the wheels. I have made quite a few tweaks to the throttle.by.wire and other t7 mappings. The shifter is now the new short throw along with a prototype rear motor mount to get through the gears quicker. Harder race outer tca bushings to keep away nasty windup/hop. Nobody wants to see saab gearbox parts on the ground (again

) other changes to the chassis include swapping the 1 rear bar for a custom bassboat metallic red 22mm that better matches the hard springs. Not much help here. The front strut mounts are the prototype hardened ones we did. They should help with wheel hop.
Along these lines and drastically needing more traction came the slicks from the racecar. This parts swapping works nice in the end I suppose. Throw in the quick change v-band muffler / straight pipe swap I had the idea for when we did the 3 full system. Leaving only a smallish center resonator it sounds like a track car. Everyday with the quiet muffler on it still sounds mean but the neighbors wave back.

So hopefully all these little things add up to bettering the previous best of 13.00 @ 110/118 no longer hopefully on the 7200 limiter in third through the lights or shift just into 4th with the same times. That was on the 225 17 heavy bbs ch! Should be in 4th nice with the little shorter slicks they are 8.5 x 24.5.
To make the 15 slicks work meant swapping the wp 336mm to stock base 9-3 setup. This was not such a fun prospect with this much power and the way I have learned to expect this car to stop. In the front are my slotted brembos, some spraypainted used calipers and hawk hps pads. They are coping well. I do have a set of used hawk black track pads for the rear 300mm upgrade kit that I threw in. They are certainly noisy and very dirty.
Just for fun and to help the brakes work I swapped to one of my favorite wheel sets that are a bit shorter. They are the aero Klingons with some takeoff stock 215 17 p6000 that are pretty hard compared even to the used up 225 kumho mx 18s.
After getting through a this it was apparent that with the new near zero price of hp these days that lots of saabs out there are running this sort of power on the streets with this little control! Its pretty crazy since this is a pretty overwhelmed chassis with even my baby 1400 airmass junk gas tune in the car! Now ever since I had to mill the closest hawk hps pads to fit those wp so that I could use a cleaner but still capable pad when the originals wore out, I decided to work on a better solution and even though those 6-piston caliper sure look cool they are not going back on the car. Instead I want a modular system that will easily adapt to perform in all situations taking less than a whole afternoon.
Well off to tie it on the dyno and make sure it is happy back on E85 and turned up to where it was before. Hopefully will find out tonight if it all works.
UPDATE: the Dyno says the power is there. ~439tq @ 4500 and 447hp at ~6200 Limiter @ 7300