Well, its that time again for another custom steering wheel order.    As last time the final cost really depends on the volume and the savings on shipping.   So these are the starting prices based on 5pcs  and if they come in cheaper I will pass it on.  Need one for my Turbo X.. Can't steal the one from my -04 as it's a different wheel.     These are not "off the shelf" parts, they are built to your specifications with custom stitching, carbon even color options for the carbon.
In my Viggen I have a carbon wheel with upgraded grips and raised stitching.  I would love to swap it out with a red carbon and stitching version.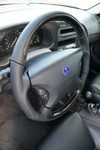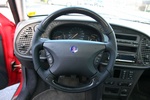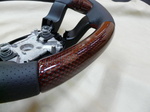 I also have a cheaper stock shape sport wheel recovered with black alcantara and red stitching.  Last time around we had some customers with Grey and Red thread that looked sweet. Even Silver carbon to match a factory metal dash.
Maybe a special "Viggen' edition with blue and gold stitching?
Last time around I kept a list on the http://www.genuinesaab.com/CustomSW/ page.  Will keep the list here this time.    The cores for the sculpted wheels can be plain or sport.  Last time I swapped all the Sport wheels with local customers and sent in the plain wheels.  It all gets redone anyway no sense in wasting it.   The alcantara wheel is not reshaped so it is what it is….   I can get cores from Goldwing, last time they were around $50  since we can take the ugly ones.
STYLE OPTIONS
0) Alcantara only Std shape $375
1) Sculpted without carbon $450
2) Sculpted with carbon: $580
RESERVATIONS
1, Nick TurboX Leather sculpted.  Bye GM quality Hello handcrafted…
2, John A Carbon Sculpted Vig