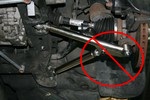 Anybody want to buy some 300 mile control arms?


Needless to say after loctite and finding the jamnuts loose after every outing the problem had to be investigated. We also found the outer joint to be binding due to wrong angles from the original design.

They sure looked pretty.
Anyway back in their place is a set of stock arms with Spherical inner bushings, race outers and upgraded bolts. Nicely the super stiff steering is gone.


While we were there we also upgraded the front shocks and springs to something a little better than the 120k originals. Going my coilovers and a spring rate that we tried on the viggen back in -06. Combined with the stiff rear springs the car has a nicely balanced feel and is almost fun to drive on the street with the 205 p6s! There is no front sway bar and a 1″ rear is used. Plan is to make a new tubular rear one when they have some free time in the welding dept, like the prototype one I ran back in -99 and never decided to produce. Gallery Link