Started the first round of suspension upgrades on the -94 red project. Drove it enough before to get a good baseline for the mods before this. The main issues I had with it were the front being much harder than the rear gave it a very mushy feeling, leaning back under any acceleration and fighting for forward grip in the corners.
The car came with Abbot rear springs, Koni Sports and hard coilovers in the front. Sway bar is a Yellow code stock and the rear is an abbott. Front stuts were modified for
The first change was stiffening up the rears with a hair softer spring that I run in the 400hp+ cars. Also knowing this was not a drag car and would mostly see street use that fits. This has proven on my other builds to work great and did not disappoint. The best improvement is during acceleration the car does not lean back and unload the fronts. Here is a video with some before and after.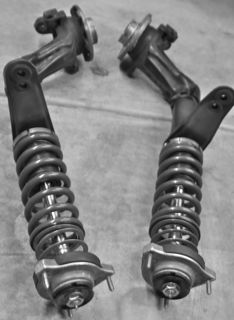 While I was swapping the brakes around It was time to do the quick steering modification also. Dropped the uprights out and the guys here at the shop whipped them out in about 1 hour. I went a little more mild than the 2.3i since this turbo has the bit faster rack already and will be used for higher speeds than the poor N/A. Afterwards I had it aligned and have not been 100% happy with the setting. May have to dig into that down the road.
We still have to figure some sort of strut bar. The stock was removed when the previous owner modified the strut towers for camber adjustment. We did put a black 6-point on it to help the chassis. Needs a rear hatch brace with the stiffer springs. They sure accentuate the chassis flex when you stiffen up the suspension.