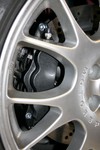 WOW, after trying more and more agressive pads with the stock calipers and adding more power the thermal limit of the front brakes was reached. At this point I needed larger rotors.
After being in contact with WinnerPower out of Taiwan I got a set to test. 336mm and much thicker than factory. But with the alloy hats they are not much heavier than factory. In the excitement no weight was measured for the different parts.
The kit installed easily with no surprises. The pads supplied are nice. ok cold bite with it getting better as they get warmer. To date they seem to hold up to any abuse thrown at them.
Here is the BUT, you knew it was coming right,

The brakes are now traction limited. I can lock them anytime. At 80+ it will make for all wheel ABS action that is a bit unnerving when giving it full brake pedal. Made enough tire smoke I was sure the engine blew.


The other problem came when the temperature dropped and the Competition tires would no longer work at low temps. Normal winter tires for me are All season Michelin. With 17″ wheels there were only a few of the factory wheels that clear. The RK BBS would not. I settled on 17″ BBS CH with OEM Michelin off the 9-5 Aero.
Anyway if you are still reading you probably know this already but braking performance is mostly related to tires. Well the first stop from silly speeds anyway.. On the following that is where the thermal capacity helps.
Gallery Images of the Install