Balance of sway bar to other chassis mods
spring rates and how the total rate is shared by springs and sway bars.
When selecting a rear anti-roll bar diameter and consequently it's stiffness the entire suspension package needs to be analyzed. Basically you are trying to keep the car from laying over with the increased cornering loads generated with grippy tires and other mods. The need roll rate is dependent on both the road springs and the bars. When the road springs are stiffer there is less need for huge bars. With soft springs, ex original base model, you can get away with the really stiff 25.5 bar. If we take the opposite limit of that and for example have a modified Viggen convertible with Koni suspension for street use it will only take a little more sway bar the 19mm will be great and was developed for this application.
This is not a case of if a little bigger is good lots bigger is better, you need to make sure you balance the total rate (spring rate + bar rate) to reach the desired effect. For a street car the 22mm bar is a good compromise and will work great with just about any setup. With the 25mm bar you can count on quite a bit of over-steer if you are not careful, on the track this can be ok but on the street with no runoff area it can get ugly.
In my attempts to make these NG900 and 9-3 autocross well I have tried as many differnt combinations of suspension to get the desired results. Some worked great others, not so well. For a while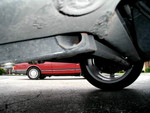 I ran a 1.5" tubular rear bar of various wall thicknesses, this was the hot setup for the base model when autocrossing. The problem came when it was installed on the rear of my new stock Viggen, It was too much rear bar when combined with the Viggens 25% stiffer rear springs and softer front bar. Also the tubular bars were too expensive to manufacture, at this point I began to experiment with solid bars larger than 22mm and found the 25.5 (1 inch) to be about the maximum limit.
For most cars with stiffer aftermarket lowering springs a 22mm bar is almost perfect. If running the 300mm rear brakes you will probably want to stop here unless you have lots of track time.
Hope this helps to eliminate some of the confusion about selecting a rear anti-roll bar for your NG900 / 9-3 ensuring it will work best for your application. Your comments are welcome.