In my drag car we have a  Walbro 255 in the tank with a -6 feed line through a filter up to a Bosch -044 on the firewall with another -6 to the rail.   We started having fueling problems above 500whp with the 100os @ 100dc. Fuel is E85 pump.  http://genuinesaab.com/gallery/FuelPumps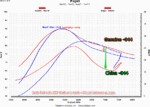 You can see the fuel supply fall off. It should follow manifold pressure exactly.  Still not perfect.   We had about 30psi feed to the china 044 so it was just that pump.
And the pumps  China Junk is on the left. You can even see the printing is generic dot matrix not dedicated stamp.  There  are more in the album at the link.  They did a good job but there are some distinct differences. Steel vs brass terminals, the upper crimp, the inlet size and the sound running. The china sounded weak.
Make sure you get a real one from a Bosch dealer.  There is too much junk out there from criminals that are stealing some others intellectual property.
Now we can work on plumbing the second fuel rail.