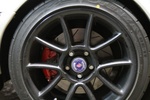 Last week Ed brought up his 2.3L 90o Talladega for some fine tuning.  The mail tune I sent him for the 2.3 need a bit of help, it made decent power and ok mileage though.  Plus we found as always a handfull of interesting issues needing addressed before sorting the soft.   Front and Rear O2s swapped lead to interesting adaption and faults.

 Boost control valve stuck in BOOST   not base boost.  I haven't seen that before.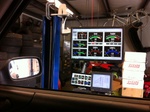 Mainly it involved sorting the fuel,  mapping all the vacuum cells with the eddy current load of the dyno.  Makes it very quick, compared to fiddling about on the road for hours.   Picked up a cheap 20″ LCD and mounted it on the dyno lift arm.  Adjustable so it is right outside the window, Needed that 5 years ago. The dyno is controlled by a handheld box by the driver.
The hardware is pretty common. Tubular Exh manifold, 18T 6cm, B234Swap, VIggen muffler, No resonator, 3in Downpipe and we made a custom intake pipe and wrapped it.  The old SP manifold was a bit close to the pump leaving little room for the intake pipe.    He has 308fronts, 300 rears and sticky tires on the powder coated fondmetals.
We ened up with the torque lower  ~325 than when it arrive but made another 10whp up top with still a conservative tune. This keeps the Viggen clutch happy and lets you drive it full throttle with only a bit of spin in 2nd.   This is a drive it to the trackday and on the way home pickup the grandson and groceries.  

   It also got a Quaife LSD in the F25 and along with the usual upgrades while I was in there a taller 5th gear to drop his cruise rpms for the highway trips.    There are more photos in the Album.