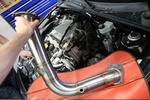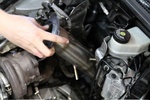 The front Downpipe is done.  Includes provisions for retaining all the factory heat shields. They are working on production tooling now.   Could have been done cheaper if we threw out the heat shields.  There are quite a few heat sensitive components around the downpipe

  I will probably still wrap this one.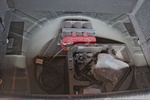 Battery is relocated, stole an old "made in Colorado" Optima from dads v4.. Not had any luck with the mexican made newer optimas. The battery mount is temporary until I can make a permanent setup including the Co2 tank for the clutch. Even added a 50A quick connector for the subwoofer.  Underhood and underneath it looks stock.  Trying to keep it from looking modified.  With the battery gone there were a couple electronics modules that are relocated.  Also sorting out the rear suspension.  Trying to keep the stock shocks happy.
Getting the rest of the motor parts for the Ecotec4  with a Gt3x something..  Probably start with stock cams and the Gt3071.
K1 Rods, Cometic Gasket, ARP studs, JE pistons, Goldwing motor.. Just to start.  But on a nice tiny budget.