Friday had some time for Quentin and I to get some runs in. Well the car made the same power as without a cat! Being properly mapped left some airmass on the table to make up for the added restriction going from nocat to cat. Got a sweet video but it is trapped in the flipvideo with a ?bad usb chip?, wish it had a removable card.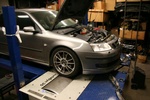 Tied down and instrumented. Ready to burn some e85. The extra "02" bung is used for development. Lets me put a wideband or pressure measurement rig in there on the dyno. Along with Boost pressure, and compressor inlet vacuum.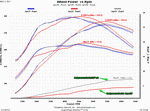 Exhaust Backpressure before the cat was reasonable at this power as expected. Half of the total was from the catback alone. A little 2.5″ magnaflow muffler with center resonator. (Hate he sound btw) Opening the downpipe for the R5 there caused a bit of overshoot since the soft was not adjusted for this quick test.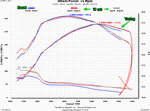 With the exhaust back together while it was tied down might as well make some other software adjustments to see if a little more could come out of it on the old e85. Interesting here with the nocat downpipe overlaid you can see that the cat really didn't influence spolup negatively. Thats nice.

The setup for these test is 18T Turbo, 630cc INj, Big Intercooler, Stock airbox/filter w intake muffler delete and 2.5 catback.
Full size in the album.