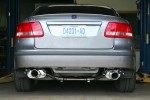 Fitted this dual exit catback onto my 9-3 SS Biopower. Much quieter than the Magnaflow that droned on the highway. Might be quieter than stock, Almost too. you hear is the gearbox and intake. Waiting on the rear spoiler from a 06-07 v6 with the factory dual exits. Then it has to go to paint. When the spoiler is on there we can adjust the mufflers. Pointless at this stage.
Here is the temporary image. Looks mean with the 245s and the mufflers hanging there, if even a bit ghetto half finished.
Almost have a final dead pedal for the SS to match the other pedals.