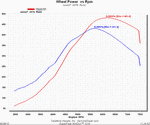 Bolted the 3076 on Saturday and threw it on the dyno sunday.  Temps were in the low 90s.  Didn't spend much time on the tuning. It is a ways from optimal.  The 750s were pretty maxed out.
Same 264 cams., full 3″ system with muffler and catalyst on E85
Liked the 3071 better may go back to that and use this one on the drag car.  Power is a little too lazy for the street and what I use the car for. Vicious on the highway though.