Trailer showed up friday Evening. Delivered by the builder on his way home.  Paint still soft. Just a cheapie tilt.  Will do the job just the same as the $7500 aluminum ones.
Slicks are on and heat cycled. Resting now.  Looks MEAN with the 235s on the BBS CH.
Race Konis are mounted. Such a pain to swap on the GM900/9-3.  Quite nice but with the slicks could use a bit harder springs. Not taking it apart again today so they will be fine. It is my street car anyway.
Cody finished the V2 strut braces last week. Uses two different wall thickness tubes to balance stiffness and weight. Looks clean. Black texture.  He also made some Black Chrome billet parts. Will be on display at SOC.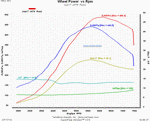 Turns out the E85 was actually E30 or so for the original dyno. Explains quite a bit.  

Lots happier now even with 100f in the dyno room and 75% humidity. Consistently put out 488whp @6200 and 440whlTq  @5700  Not bad for 25psi boost falling to 20  tapered it out just to keep the heat out for the track day. Have to fit the 1,000 CC Injectors after SOC then turn it on up.  Timing is still a bit on the conservative side of MBT.  Couldn't make any more power or it just leans out. 13.0 gas equivalent should be fine.  Thats like only 10% rich.  Might try some ngk 9s  also.  Leaning on these BCR8ES a bit.