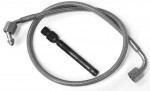 Working with Goodridge for some custom injection lines we have come up with this solution.  Available in all the Hose colors.   Plastic covered for abrasion protection.   Anyone out there looking for lines?  Or am I just wasting time and move on to the new saabs?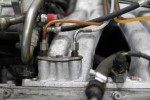 To adress other questions.  Yes they will be a perfect fit set.  There are banjo bolt ends available for the original Cis cars.  

Pricing will be based on 2 Quantities.   5-9 sets and 10+  $49 /line or $45.   That makes set price $198 for 5-9 or $182 if 10 or more sets.
Update July6: They are in the GS catalog for ordering standard 8-v lines.    This will allow us to build each set custom colors etc for that order.  Lead time should be about 1-2weeks from a valid order. As always we will only charge when they ship, not before.   For you overseas customers the shipping will be list rates.  We pass along the best discounts we can negotiate on the freight.  Now if you need an exact quote shoot an email to my shipping dept.
Final Update Oct 20th      As with all saab projects… There is 2 Saabs in France that have new CIs lines..