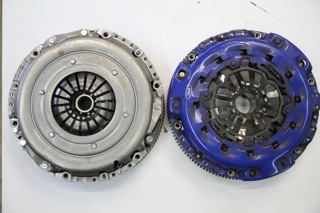 Finally replacing the spec in my SS with a new larger capacity and nicer clutch is quite a relief. The spec has been nothing but trouble since new with no support even pulled it apart once to swap the 30k mile original hydraulics. Now spec says they don't sell those! No help with the $900 I have invested in the pos. It has maybe 3000 miles on it as a grocerygetter.
New clutch is 10mm larger. Same or slightly less pedal pressure. The organic material makes engagement smooth. Back to a dual mass flywheel to keep the f40 quiet.
This along with the new Quaife should give the 245 tires a chance. Time to turn the power up and see where the pistons reach with careful tuning on corn.
Anybody want to buy a used clutch and flywheel?